Hizb ut-Tahrir America sent a delegation to the Pakistani Embassy in Washington DC on Wednesday, Rajab 6th 1437 AH 4/13/2016 CE and another delegation to the Pakistani Consulate in Chicago on Tuesday, 12th Rajab 1437 AH 4/19/2016 CE, to deliver a letter demanding Pakistani authorities to release honorable advocates of Khilafah that have either been incarcerated or abducted by the Pakistani establishment. This persecution on non violent political workers has been going on for over four years. The letter also included a partial list of 13 such political prisoners/abductees and called on the just and influential Muslims within Pakistan to raise their voices against these gross injustices.
In addition to sending these messages to the Pakistani Embassy and Consulate, the same open letter was distributed among Muslim residents the following Friday.
In light of these visits and open letter distribution, we call upon all Muslims to keep the pressure on the Pakistani authorities, for the release of the callers of Khilafah whose biggest committed "crime" according to authorities, is to spread the word of truth by holding the government accountable for their injustices done to the people and the cooperation with the West in killing and harming Muslims, through intellectual and political discourse and without the use of force.
Rajab 15th, 1437
4/22/2016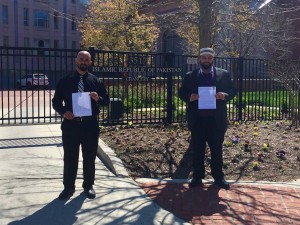 PDF: Hizb ut-Tahrir America sends a delegation to the Pakistani Embassy in Washington DC